Mar 22 2011
These days we are all pulled in many directions, including conversations and communities that pique our curiosity or compel our participation for one reason or another. The conversations about communities of practice are a case in point. Nobody can follow them all, or read everything that's written about communities of practice. Google says there are 29 million pages when you search for the term. (I originally wrote this for CPsquare, but decided it belonged here, too.)
You have to resort to some shortcuts to follow the conversation about communities of practice or just try to catch up. I have been impressed with recent conversations about communities of practice in LinkedIn, for example. It's not a place where I would expect to find the topic pop up. In one recent conversation, however, a bunch of references to good articles were cited and Nicky Hayward-Wright ended up not only gathering them together but organizing them into a wonderful update to the Healthcare page on CPsquare's Wiki bibliography. When you think of it each one of the bibliographies in CPsquare's Wiki points to a conversation as well. Which brings up the question of the different flavors or meanings of the term.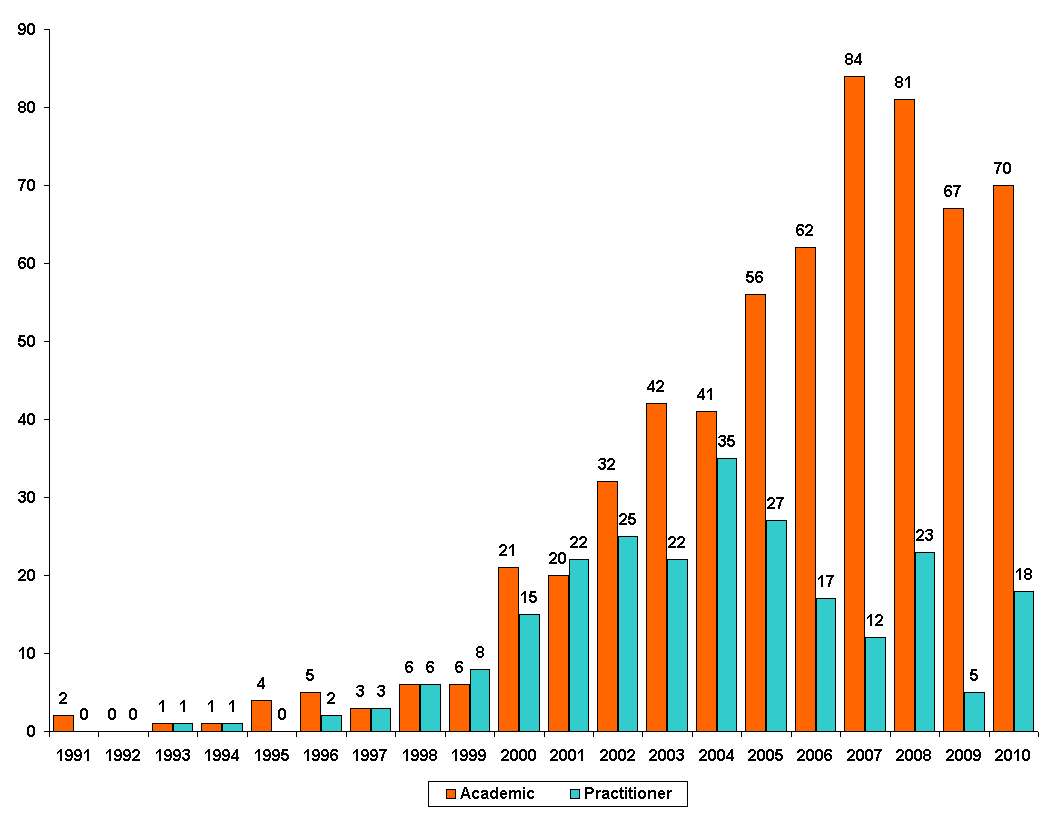 Thanks to Bev Trayner, I just bumped into a comprehensive bibliography in the business and organizational studies literature that is a full length study of the concept by Enrique Murrillo. Murillo talks about how the concept's "interpretive viability" makes it flexible but also has associated risks. Murrillo suggests that the recent decline in practitioner-oriented journals is "a symptom of the CoP concept becoming mainstream, an accepted addition to the Management vernacular."
Essentially, how you use the term is kind of situated — say on whether you're in healthcare or in business or education — or in the theory-construction business. (In his keynote talk at the Networked Learning Conference in Aalborg last May, Etienne Wenger suggested that whether you use the term or not depends on what you want to do.) I have to say that conversations in LinkedIn, CPsquare and com-prac among others, which lean on, borrow from, and occasionally heckle the academic literatures, are alive and well. Keeping a conversation going is an art with enduring interest. Even when you think you've figured it out, it seems there are surprises and more to learn. (For example, I thought that Digital Habitats would lead to more of a conversation about technology stewardship than it has so far. I wonder why?)
No responses yet
Leave a Reply
You must be logged in to post a comment.